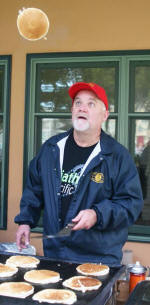 2020 Calendar of Events
January
| | | | |
| --- | --- | --- | --- |
| Wednesday | Jan 8 | Breakfast Meeting | First Awakenings Restaurant |
| Tuesday | Jan 21 | Middle School Honors pancake breakfast | PG Middle School |
| Wednesday | Jan 22 | Breakfast Meeting | First Awakenings Restaurant |
February
| | | | |
| --- | --- | --- | --- |
| Wednesday | Feb 5 | Breakfast Meeting | First Awakenings Restaurant |
| Wednesday | Feb 19 | Breakfast Meeting | First Awakenings Restaurant |
March
| | | | |
| --- | --- | --- | --- |
| Wednesday | Mar 4 | Breakfast Meeting | First Awakenings Restaurant |
| Saturday | Mar 7 | Pony Baseball Opening Day pancake breakfast | Muni Park |
| Wednesday | Mar 18 | Breakfast Meeting | First Awakenings Restaurant |
April
Wednesday
Apr 1
Breakfast Meeting
First Awakenings Restaurant
Saturday
Apr 4

Canceled


Good Old Days pancake breakfast

Jewel Park
Wednesday
Apr 15
Breakfast Meeting
First Awakenings Restaurant
May
| | | | |
| --- | --- | --- | --- |
| Wednesday | May 6 | Breakfast Meeting | First Awakenings Restaurant |
| Wednesday | May 20 | Breakfast Meeting | First Awakenings Restaurant |
June
Wednesday
Jun 3
Breakfast Meeting
First Awakenings Restaurant
Wednesday
Jun 17
Breakfast Meeting
First Awakenings Restaurant
Saturday
Jun 27
Feast of Lanterns Royal Run and Fun Track Meet and Pancake Breakfast
9:00 - 11:00 am
PGHS Track and Field
July
| | | | |
| --- | --- | --- | --- |
| Wednesday | Jul 1 | Breakfast Meeting | First Awakenings Restaurant |
| Wednesday | Jul 15 | Breakfast Meeting | First Awakenings Restaurant |
| Saturday | Jul 25 | Feast of Lanterns transportation volunteer | Lover's Point |
August
| | | | |
| --- | --- | --- | --- |
| Tuesday | Aug 4 | Returning PG Unified School District Staff pancake breakfast | Community Center |
| Wednesday | Aug 5 | Breakfast Meeting | First Awakenings Restaurant |
| Saturday | Aug 8 | Youth Center pancake breakfast | Youth Center |
| Wednesday | Aug 19 | Breakfast Meeting | First Awakenings Restaurant |
| Sunday | Aug 30 | Big Sur Marathon transportation volunteer | Rio Road & Highway One |
September
| | | | |
| --- | --- | --- | --- |
| Wednesday | Sep 2 | Breakfast Meeting | First Awakenings Restaurant |
| Wednesday | Sep 16 | Breakfast Meeting | First Awakenings Restaurant |
October
| | | | |
| --- | --- | --- | --- |
| Thursday | Oct 1 | PGHS Football pancake dinner | Youth Center |
| Saturday | Oct 3 | Butterfly Bazaar Snow Cones | Behind Robert Down School |
| Wednesday | Oct 7 | Breakfast Meeting | First Awakenings Restaurant |
| Saturday | Oct 17 | Hole-in-One Contest | Pacific Grove Golf Links |
| Wednesday | Oct 21 | Breakfast Meeting | First Awakenings Restaurant |
November
| | | | |
| --- | --- | --- | --- |
| Wednesday | Nov 4 | Breakfast Meeting | First Awakenings Restaurant |
| Saturday | Nov 14 | Half Marathon pancake breakfast for Cub Pack 126 | Lover's Point |
| Sunday | Nov 15 | Half Marathon parking control | MPC |
| Wednesday | Nov 18 | Breakfast Meeting | First Awakenings Restaurant |
November/December
December
| | | | |
| --- | --- | --- | --- |
| Wednesday | Dec 2 | Breakfast Meeting | First Awakenings Restaurant |
| Wednesday | Dec 16 | Breakfast Meeting | First Awakenings Restaurant |
| Friday | Dec 18 | Wrap Party for Santa Project | Pacific Grove High School |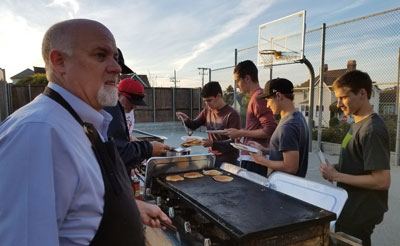 PG Kiwanis Volunteer instructions
Instructions to sign up to volunteer for transportation at the Big Sur Marathon. The Kiwanis Club volunteers direct participants to busses and control traffic flow on Rio Road near the finish line. It is usually a 3 to 4 hour time commitment. Big Sur Marathon insists all volunteers sign up to receive event tee shirt. You can also sign up family members and students who can receive high school credit for volunteering.
The earlier we sign up the better chance we have of getting the right size t-shirts.
If your volunteer registered last year they will log in under their racemine account to volunteer. If not, it's easier if they log in as a guest.
Directions for Volunteers:
Go to http://bsim.org.
Go to Big Sur International Marathon.
On the yellow banner, go to Race Weekend tab and then to Volunteers.
On the volunteer sign in page, Click on the Volunteer For Event icon. Click that.
Use the login information from Michael.
Agree to the waiver.
Choose your group. (Kiwanis Club of Pacific Grove) Follow the prompts to complete your registration.
You'll get a confirmation email right after registering.
We won't share your info or spam you; we will send you a reminder right before the next event that your group works at to remind you to register, and if you aren't interested in volunteering again, you can opt out of the database at that time.
Michele is on the Board of Directors and can answer any questions you may have and will supply login information.
Our Hole In One Contest from 8:00 am - 4:00 pm at the 17th hole of Pacific Grove Golf Links. In addition to the $10,000 Hole-In-One prize, there will be prizes for those who get within a 8 foot circle of the hole. All proceeds of the event go to directly to PGUSD School athletics.
Kiwanis is proud to be working with the local fire departments to provide toys to boys and girls. We are seeking your assistance in bringing the Christmas spirit to the less fortunate! Your donated toys will be delivered to children by the Monterey/Pacific Grove/Carmel Fire Department.
Toys must be brand new and unwrapped.
Toy collection barrels may be found at the following locations:
Schools

|

Fire Stations

|

Local Merchants

Robert H Down Elementary School
|
Carmel Fire Station
|
First Awakenings
Forest Grove Elementary School
|
Monterey Fire Station No. 1
|
Grand Avenue Flooring
P.G. Middle School
|
Monterey Fire Station No. 2
|
P.G. Cleaners
P.G High School
|
Monterey Fire Station No. 3
|
P.G. Travel
P.G. Adult School
|
P. G. Fire Station
|
Paul's Drapery

Community Services

Pebble Beach Community Service District
|
PG Tourist Information Center
|
Meeting Speakers
We welcome guest speakers. Please contact us to schedule a speaking engagement.
For more information, please contact: Sherry Sands (831) 372-4421